The women of the CFO/CHRO/CIO South Africa communities shared knowledge at a dazzling executive dinner.
On 2 August a 300-strong group of women CFOs, CHROs, CIOs and their mentees gathered at the annual Women's Dinner hosted by CFO South Africa, CHRO South Africa and CIO South Africa. The women came out in their numbers to experience knowledge-sharing, networking and career-building opportunities – especially in the company of other extraordinary women.
The dinner event held at the lavish Venue at Melrose Arch, Johannesburg, was themed "Elevate: the journey to leadership (and beyond)", with the aim of encouraging female executives to share their successes and motivate others as well as their mentees to reach greater heights.
This was the first time that the women of the CFO South Africa and CHRO South Africa communities had the opportunity to interact with their CIO counterparts, and not a seat in the venue was empty – a true testimony to the power of community to support knowledge sharing, networking and career building.
The extraordinary Women's Dinner was hosted in partnership with Principal Partners Deloitte, EOH, Makwa IT, Mercer, Momentum, Sanlam, Liquid Intelligent Technologies and Workday, Executive Partners BCX, BDO South Africa and PwC, and Associate Partners GIBS and Yugrow.
Seven Summits
Keynote speaker Mandy Ramsden, the first South African woman to join the Seven Summits Club, as well as the QuestCo Principal, kicked off the programme. She gave the women in attendance key pointers and learnings on the art of successfully summiting mountains, whether metaphorical or real.
Sharing lessons from various climbs she has undertaken, Mandy highlights that there needs to be a certain level of commitment to oneself to make it through the entire journey. "In the process of climbing mountains, I learned I was stronger than I imagined; physically and mentally. I learned mental coping skills and realised I have more fortitude than I knew I also learned you can't do this by yourself. You have to work together because life depends on your team, better pick it wisely and pull your weight. Sometimes your role in the team is just to be cheerful."
Mandy's presentation was met with awe and appreciation by the audience, who were astonished by the stories of her resilience and endurance and inspired by the lessons she learnt.
The trek to the top – and taking in the view
The first panel was made up of Nopasika Lila, group FD at Barloworld, Norah Sehunoe, executive head of human capital at Santam Insurance, and Palesa Ntoagae, human capital executive at Old Mutual Insure.
Nopasika shared with the engaged audience that despite the various mountains one may face, it is important to always remain true to yourself. "My mother used to say you shouldn't aspire to be another person. You will rob the world of the opportunity to experience you. But you can learn from them."
Palesa shared her experience of reaching Uhuru peak while summiting Mount Kilimanjaro. She said she found herself reflecting about her struggles, achievements and everything else in between.
"It was all about wanting to do something to affirm myself. What I've reflected on in hindsight is that this is not a once-off thing but rather a great trek with one foot before the other."
Touching on her actual mountain climb, she said it in undoubtedly the most challenging moment in her life. "It really in more ways than one changes a person's outlook on life."
Norah who shared an experience of personal loss said her biggest takeaway from that was to be more conscious of what others are going through. "We tend to talk about professional and personal lives as separate, but this was about an integration, about being able to know when to prioritise what, when. You can't separate the two, it's about finding a formula that works for you. What am I not willing to compromise on?"
Their commentary resonated so strongly with the audience that they broke into spontaneous applause at various points throughout the discussion – as meaningful and powerful stories were shared.
At the top, and beyond
Bobo Mngxali CHRO at Roche Diagnostics, Christine Ramon, former AngloGold Ashanti CFO and acting CEO and current non-executive director, and Shabhana Thaver, CIO at Investec, were next on stage talking about the what next after one reaches the top.
Kicking off the discussion was Bobo, who started by addressing mentees, "To younger self: have a teachable spirit, don't rush to learn."
She also had a message for the executives: "Feedback is a gift and one we should embrace, sometimes it's not easy to take, as a leader."
Christine, who says she is in the twilight years of her career, encouraged the younger mentees to have a proper foundation and qualifications. She added that they also needed to consolidate their experience and make their voices heard. "Trust your instinct and make sure that the business values align with your value set. Last but not least – it is important to make yourself heard."
Shabhana, who works in a predominantly male environment, said that she is an individual in the business of leadership not just technology. She said women need to think less about the barriers, and rather about the opportunities presented through those so-called barriers.
"Think about the glass ceiling as being the new floor," said Shabhana.
She further advised. "Embrace your intersectionality because everyone is different. Who you are is what makes you different and makes you worthwhile."
Focusing on a new future
Deloitte CPO Lungile Mahluza pointed out the hard work her grandmother and her mother did before her to fight against the system that was holding back women. She explained that because of this, it has allowed her to focus on more important fights – including the one for our future.
"Humans are the future because of their unique capabilities and qualities that set them apart from AI and other technologies," she quoted ChatGPT, which she had asked whether humans still have a place in the future.
It's answers were:
"Humans have consciousness and subjective experiences, including emotions and self-awareness. They possess the capacity for creativity, imagination and original thought, enabling them to create novel ideas and solutions. Humans can understand and empathise with the feelings and emotions of others. They also have the remarkable ability to adapt to new and changing situations, learn from diverse experiences and apply knowledge to various scenarios."
And this is especially true for women, who have brought these qualities with them as they aim to lead authentically in the new world.
Empowering future leaders
In the spirit of lifting as you rise, CFO/CHRO/CIO South Africa has made a donation to Feenix, an organisation that crowdsources outstanding university fees on behalf of financially strained students.
As such the organisation has been able to contribute to settling Lebogang Viola Tshali's outstanding fees. Lebohang is studying BCom Accounting at the University of Witwatersrand, "Today, I stand before you as a testament to the impact education and support can have."
While still young, Lebogang has a powerful voice, and the audience was stirred by her story and her observations about being "unstoppable".
Time to interact
Ignite Her founder Inge Walters wrapped up the evening, challenging the women to use their learnings from the evening to elevate their levels of success.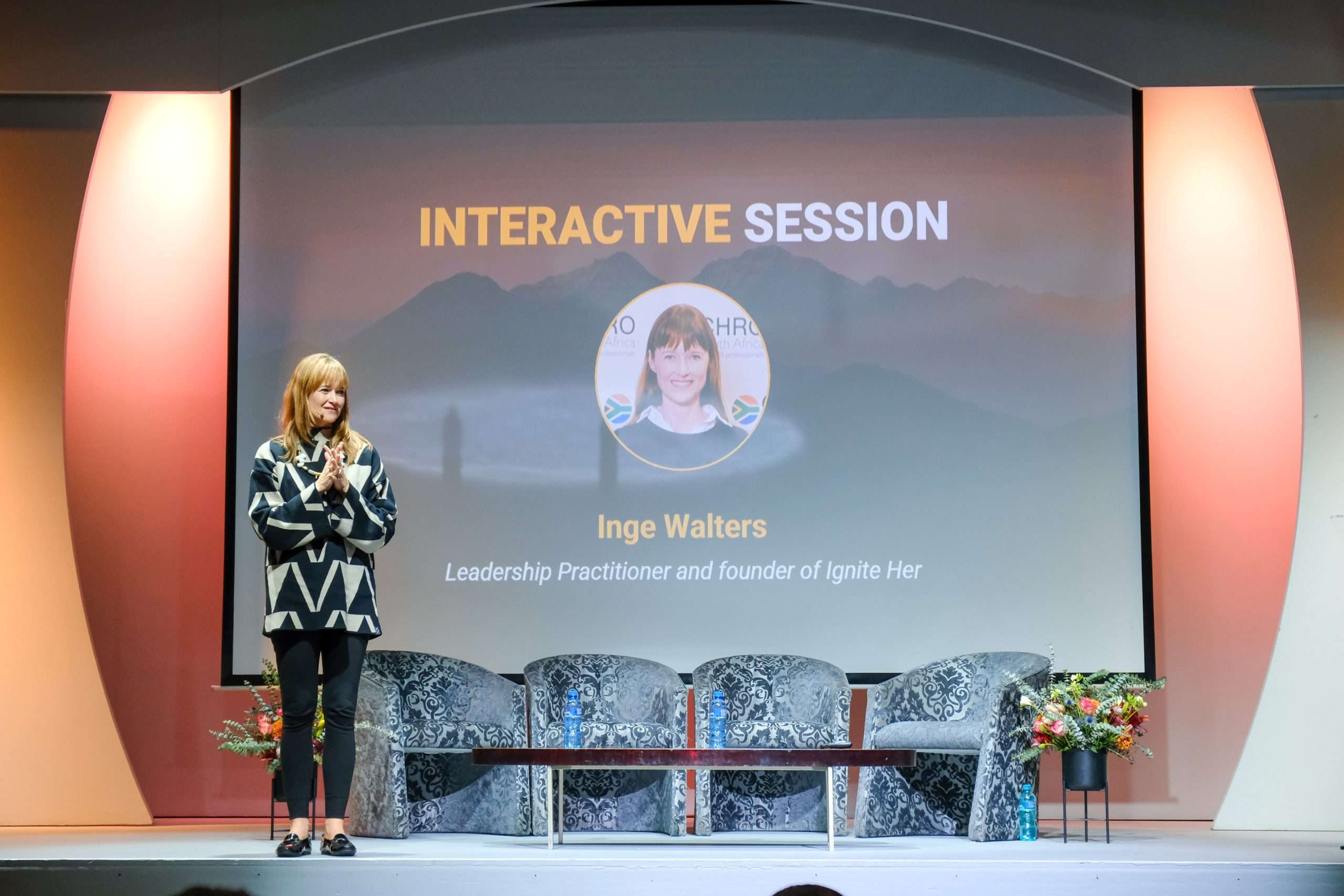 "Leaders agree that a lack of business acumen is holding back their organisations," Inge said. "Learning business acumen means getting acquainted with everything you should know about the business world – including soft skills, finance, communications, and more. To do that, you need to fully immerse yourself in the role, in the business, in the industry and in relationships."
She then encouraged the women to seek out new contacts in the audience and compare notes on how they developed their acumen.
The women of the three communities left the event with lots to think about, and many new connections made. This, the first time the women executives of the three communities have come together, revealed the true power and potential of the interaction and collaboration between executives in different roles.